Germany Tour Day 5 – Fahrradcafe, Hannover 
So we woke up this morning, still unsure about what exactly happened at our gig last night, but positive about today. We woke up at about 10.30 and once again, Brendan provides us with an incredible breakfast and Joe goes for a run. We spend a bit of time this morning catching up on admin work that we both need to do. Whilst doing this, Brendan is teaching me about folk music and giving me plenty of musical examples to check out, and playing me some more songs himself. Please go and check this guy out. What a voice and I really do hope I get to gig with him in future, either in the UK or Germany or maybe both!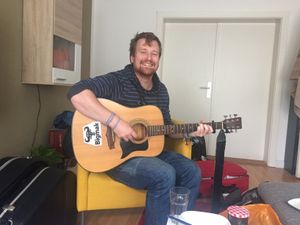 We didn't leave for Hannover until about 2.30, our goodbyes to Brendan were honest and heartfelt. It had been a real privilege being in his company and it was very nice of him to put us up as he did and for arranging both the Kiel and Hamburg gigs for us. It was supposed to take about two and a half hours, but as we've already established, I drive slow so we didn't end up arriving at the venue until 6.15. On the journey we listened to Ben Folds Five (again, but also a different album), The Dumdums (again, but they're still not on Spotify) and the Stereophonics. 
When we arrived at the venue we were a bit rushed as we were supposed to start at about 7.15. The venue is a bike shop, which is a first for me. It has a little café bit at the front of the shop, and the owner seems lovely. It's great that they had a poster up in the store about the show and they've been very proactive on facebook in promoting the show. It was also going to be a beer tasting event for a local beer which is coming out soon, it was a very good beer, although I can't remember what it was called other than it had the postcode of this part of town in the title. I must look this up. 
Before I talked to some people who have come along. Two wonderful people who I met in Hamburg in April at Bry's gig at the merch table. They both traveled quite a distance to be at the gig as they couldn't make the Hamburg gig the night before, and I applaud their efforts. I also met the couple who are putting us up for the night, Steffi and Mark and some of their friends too. I've been in the same room as these two before at various events and gigs in the UK, but none of us could remember if we'd actually been formally introduced or not. Either way, it was nice to meet them (again?). 
I start at about 7.30ish and at this point there are about 18 people (and a baby) in the front of the café, which filled all the available seats that were put out. Tonight's gig has a house show vibe to it. Once again as soon I start playing the room is focused and did all the things that I wanted them to do. The atmosphere was just delightful. Even the baby was polite enough to stay quiet whilst I was singing. Whilst I was singing my new song "Burning Up" (available to listen to on my new EP, you should go and check it out), which is a social commentary song about how bad we have all become at discussing and debating political issues, a group of people walked past the window carrying placards and marching to support their cause. They could not have timed this any more perfectly. I looked out and one of them waved it me. It was a beautiful moment. There is an election going on in Germany at the moment, it takes place a few days after we leave, but it's fascinating seeing how it works out here. There are posters everywhere featuring the faces of the people who are running for election, both the local and national candidates, but from what we can see, there is very few propaganda style posters like we have in our elections, which is really quite refreshing. I found out afterwards, that the party that walked past whilst I was playing was a satirical party that runs in these elections called "The Party". I guess they're similar to our Monster Raving Looney Party but this party has even managed to get someone elected into the European parliament. They looked like they were having fun and were good-natured and I'm all in favour of that.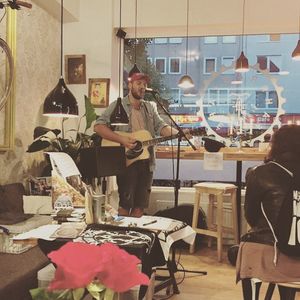 After my set, I had a bit of a surge at the merch table, the busiest I had been for the smallest amount of people in the room, I sold 6 CDs, two bracelets, two t-shirts, two bags of tea and four tea towels. A very good return indeed. 
Joe's set was great tonight; he played a lot more of his new songs which are in consideration for this fourth album. I think they're some of the best songs he's got, so I'm looking forward to this album. I walk around with the hat again, and we make a ridiculous 198 euros from the few people in the room. Joe looked like he was having an absolute blast, and I had a great time too. The fact that people were so generous on top of that made me feel elated. Once again, people apologise to us for the lack of people, but I think more people may have ruined the atmosphere, so I personally couldn't be happier about this night. 
Due to the fact that we arrived quite late, we didn't have time to eat beforehand, so we packed down and then went to a little restaurant over the road with my two friends from Bry's Hamburg gig in April. We had an incredible amount of food for not a lot of money and I got to have some Turkish apple tea, which I'm a big fan of. The night was getting better and better. 
We said goodbye to my friends (who had a long journey home), and then headed to Mark and Steffi's where we were greeted by them and two of their friends. Their apartment is really wonderful, and I could tell that they were of a similar age to me. Most of the books, CDs, films, artwork was all things that I had a keen interest in, so I knew I was with people whom I was likely to stay up late talking with. A beer was put in my hand and we began putting the world to rights. We talked about German and British politics, about the war, about the difference between Coldplay and Arcade Fire, amongst many other things. We also found time to sing some songs, I contributed Wannabe by the Spice Girls and Gangsters Paradise by Coolio. Why wouldn't I? Joe went to bed, and I stayed up with my new friends. It was yet another beautiful night and I'm buzzing as I get ready for bed. Mark and I both say that we could stay up for longer whilst we're brushing our teeth, but I remind him that if we solve all of the worlds problems in one night, then we'll have nothing to talk about next time we're together!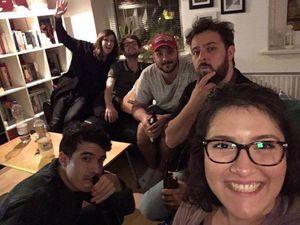 Thus ends another great day. Joe was still awake when I got to bed, and we discuss about what has been the best night. They've all been so different, but all have been incredible. We have a night off tomorrow, but we probably need it to get up to date with everything that's going on. 
Thanks again for reading. I hope you have a great week.