Germany Tour Day 4 – Café Mathilde, Hamburg 
Today was always going to be a bit crazy. We had a late night, my new EP also came out, so I knew I'd have to spend some time promoting that and my first ever gig in Hamburg, which has been on my bucket list since I was very young due to the connection with The Beatles and Hamburg. I've always been a massive Beatles fan, and I have an unhealthy obsession with all things Beatles, so Hamburg is a mythical place for me. I got to see it for the first time in April, but that was just passing through, this is an actual gig. Even though our venue was just a café and not near the venues that the Beatles used to play, there's still just something about playing music in Hamburg that excites me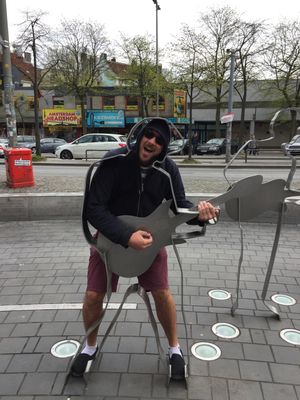 We woke up around 10ish, and I cracked on with the jobs I had to do for the new EP. I'm really pleased with this EP by the way, so please do check it out if you haven't already. Joe went for his run as is the daily tradition and when he got back we had some breakfast with Brendan. Germans value breakfast as a huge part of their day and when they have guests they really lay it on strong. Although Brendan is English, he's lived here for long enough to have had this drilled into him, and he made a big effort to go to the shop that morning just to get some things for us to eat. What a star. 
I carried on with doing my promotional duties for an hour or two. Brendan was doing some practice in the room next door, and the sounds coming out from that room were truly magical, you really need to hear this guy sing! 
At about 2pm, Joe and I went for a walk into Kiel to have a little look around. Kiel is a port town which is very similar to Southampton or Portsmouth in it's size and appearance. 80% of it was destroyed during WW2 as this is where the U-boats were being made. The whole war thing is very odd. It wasn't that long ago, and there are still many people alive who lived through it, but it seems completely alien to me that we could have been at war with these people not so long ago. They're so close to us, and so lovely. It's hard to imagine that we destroyed so much of their history, but it's harder to imagine that we had a good reason too. It just doesn't seem right to me. Still, we walked around the town and I got my first German sausage of the trip from a little hot dog vendor. We saw a big cruise ship and some other small boats, and we found a statue that looked like it's been wrapped up, maybe they're worried that it was going to Kiel over (it was only a matter of time).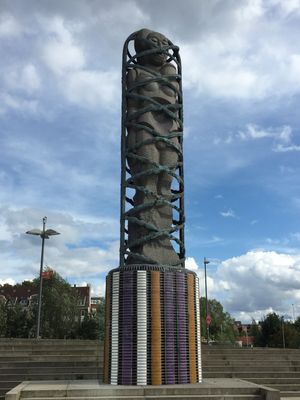 After our little exploration, we headed to Hamburg. It was about an hour and a half drive due to some roadworks, but it was a pretty easy drive. We started listening to Ben Folds, but my CD was scratched, so we only got to track 9, so we then listened to an album Ben Folds made using lyrics written by the novelist Nick Hornby. 
We got parked up just around the corner from the venue and started to bring our stuff into the venue. We got another lovely greeting from the staff, I'm getting too used to this and I'm concerned that when I get back to the UK and turn up at a venue, my expectations will be too high! The venue is a lovely quiet café with books everywhere that people can pick up and read if they wish. There was someone in there doing some sketching, which I enjoyed watching from afar. We set up and had some food, and then to my surprise someone who used to come to my gigs in London walked through the door. They happened to be in Hamburg for the weekend and saw my post on Facebook about the tour so decided to spend of their nights on holiday watching us sing our songs in a small little café. I was blown away once again. I spent some time talking to them before I was due to start. 
At 8.15 I plugged my guitar in and introduced myself to the room. There were roughly 20 people in the café and only one of the two English people had actually ever heard me before (other than Joe of course). I'm not going to lie, I found the set to be quite hard work. The audience was very polite of course, but I didn't get the same reactions as I have done on the previous nights on the tour. I'm not sure if I also put so much pressure on this gig because it was in Hamburg, but  I certainly struggled to relax into it as much as I have done this week. I think I still played well though, and afterwards I sold a couple of CDs, some tea and a t-shirt, so I can't have been that bad. 
Joe then went on and what happened next may have been one of the strangest things I've ever experienced. He was about 3 or 4 songs in when two older women walked through the door. I assumed they were together, but I'm now not so sure they were. The first one made a funny gesture with her hands as she walked past Joe (we were set up by the front door), and the second one was wearing a black sequined mask. She went to the counter and order a tea, and came and sat the table next to the one I was on with a mug of hot water (she'd refused the tea bag). She then started to look rather troubled and upset, and pulled out a clothe from her bag and it looked like she might have been crying into it. She then dipped it into the water and rubbed her lips with it. Every now and then she would say something out loud to herself and wave her hands around a bit. She then had a five euro note in her hand and was dipping that in the hot water and rubbing that against her lips. Joe being the pro that he is, was completing ignoring that this was happening, but I think that all the other guests were definitely feeling as confused as I was. It then seemed like there was some kind of chant that she was doing and next time I looked over she had a gold knife in her lips. It was all very confusing. The person working in the venue at this point walked over and told her to be quiet, and in fairness, she did. Towards the end of Joe's set he asked me to walk around with the hat to collect any money that people might want to give us. I'm did, and people were very generous, although I decided to not wave the hat in front of the woman with the knife. 
Joe finished and we started to pack away the equipment, but as we did, the lady with the mask walked up and said "Here is an arrow and here is a broken arrow," she then placed a match and a broken match, which was inside a matchbox into the hat. She then put the five euro note which she was dipping in the water earlier into the hat and asked if this was enough, and finally she dropped a screwed up few pages that she'd ripped out of a book and scribbled all over and then she left. Upon closer inspection it was a book about Hinduism in English and she had written the words "Storm Blizzard" onto the book.  We are both very confused by all of this. We're not sure if Joe and I have been cursed or blessed or whatever else it could have been, but Joe was certainly slightly freaked out by all of this, so I just tried to make light of it all to diffuse the situation. If this was someone who genuinely was trying to curse or bless us then I'll be honest, I find this very amusing, however, there's also the side of me that wonders if there are some mental health problems, in which case I don't want to joke about, either way, the gig is now extremely memorable but probably not for the reasons that we had hoped.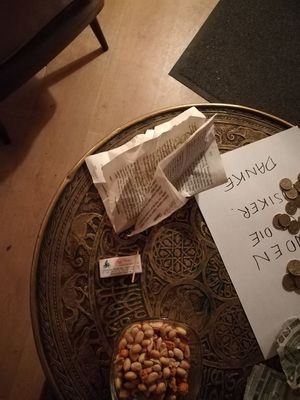 My English friends seemed to have a great time though, and I hope to see them again soon. Another great thing happened. Someone came up and purchased some things from the merch stand and then told me that they're traveling to Manchester in November and was looking at gigs to go to and saw the Bolton gig listing that we have and so they checked us both out on YouTube. They then saw we were playing in Hamburg (where they live) and decided to come along. So because of a gig we have in Bolton, someone turned up to our gig in Hamburg. I love the internet sometimes. 
We made 54 euros in our hat, which was very welcomed, as we filled the van up with petrol today. The venue really was lovely, and I'd love to play there again in future. I feel like I've got more to offer in Hamburg and want to come back here again and again. 
After the gig, we went back to Kiel to stay at Brendan's. This does mean that we've had no time to explore Hamburg, but both Joe and I have done this before, and we both intend on coming back, so I'm sure we'll both see more of this city in the future. 
In the journey back, we listened to Ben Folds Five.  We met Brendan at Alta Ma, where the jam had been last night. He had a gig of his own there tonight, but we just missed his set. We hung around there talking to some people and some of his band members, and then headed back to Brendan's where we stayed up talking about music again. I really do like this guy. Check him out. 
The day ends at about 3.30am. It's been a long one and a strange one, but I'm glad that the EP is out and people seem to be listening to it and sharing it, which is nice. 
Thanks for reading. I hope you've enjoyed your weekend.