Germany Tour Day 3 – Prinz Willy, Kiel 
I didn't set an alarm today, but I woke up around 9.45 as Joe was getting ready to go for a run. I had to dash out to put some money in the parking meter but then I came back to bed and caught up on a few things on my phone. I got myself ready and went to a little bakery next door where I had a marzipan croissant. I'd been told that Lubeck was known for making marzipan so I figured it would be rude not to try it. It was good. I spent a bit of time in the bakery with my laptop doing some work and then Joe and I headed out to explore Lubeck during the day. 
It really is a beautiful little city, lots of medieval buildings which sometimes make you think you're walking round in a fairytale. The most famous is called the Holstentor, which was the old gateway to the city but it's now a museum. We went down and checked it out. We wandered the streets for a couple of hours. We didn't need to leave until 2.15 and even then we knew we'd be early into Kiel as it's only a 50 minute drive, but that was the time our parking ran out, and we're on a budget! Like most European cities there are plenty of little statues and oddities to keep you entertained as you walk around, and I liked that Lubeck had little signs in German and English explaining what everything was. I felt like I was on a school trip. Joe said that it reminded him of York. I've never been to York. This needs to change.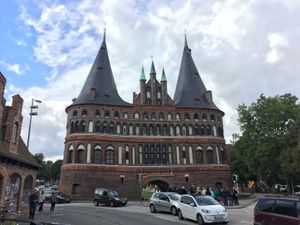 The drive to Kiel was fantastic. We got off of the autobahn and went cross country through a town called Plön, which was stunning. There were huge lakes and a big nature reserve. It really was very pretty. We also listened to Ryan Adams again. Both of us enjoyed Gold so much yesterday that we put it on again. 
We arrived in Kiel at about 4 (I drove really slow and we stopped for petrol), we parked up near the venue but it was closed and I was in desperate need of the toilet so had a made dash around looking for one and I'll be honest, I nearly wet myself. We contacted the person who has arranged the shows in Kiel and Hamburg for us, Brendan Lewes, who is a singer/songwriter from the Lake District who moved over to Germany four years ago. He is putting us up for two nights as well as organizing the gigs, but he's also someone that neither of us had met before. Turns out he lives right next to the venue, so with a bit more forward planning I wouldn't have had my toilet dash. We took our stuff to his apartment and hung out there for a few hours, chatting with Brendan about what he does and listening to some German music. It was a really nice few hours. 
We then headed to the venue, Prinz Willys, yes that made me smile too, immature Englishman right here, but who wants to grow up? It was a small little bar with a stage at one end with a PA system and chairs all pointing towards the stage. You can tell that this is a place that people come to in order to listen to music. I just can't imagine places like this existing. Willy (the lovely owner) cooked us a pizza as we arrived as we were setting up. It was 6pm and the doors were due to open at 7pm. Beer again was being offered, and I of course accepted the offer. Some twins turned up nice and early and I got talking to them about what they do. They had seen a facebook event, checked out Joe's music and decided to come on down.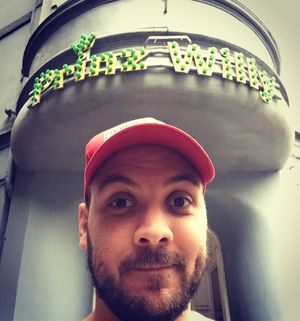 The way this venue works is that everyone pays one euro to come in to cover the venue costs and then they pass a hat around for the musicians, but people come here to try new things. Incredible that it works. 
I was due to start at about 8.15, and at 7.50 it was still just a handful of people, but then a little surge started, and by 8.15 all the chairs were taken and there were around 30 people in there. 
I thought that last nights gig was good, but this one just knocked my socks off. This was incredible. One of the best gigs I've ever played and the respect shown just blew me away. I genuinely didn't want to stop playing. Unlike the previous two gigs where we were playing and people who happened to be out were really polite and paid attention (which was wonderful), these people genuinely wanted to come out and listen to live music and as a result the atmosphere was incredible. 
Joe played his set, and he felt the same as me. Loved every minute of it. During both of our sets, the person behind the bar took the time to walk around with the hat and people put in both times. The hat had 170 euros in, and I also sold a couple of CDs, a teatowel and some tea. A successful night! 
Both Brendan and Willy were apologetic to us that it wasn't busier, but it's incredible to think that they thought we'd be unhappy with this night. It genuinely blows me away. 
We spoke to a few people who were there, and packed our stuff down. Brendanthen suggested that we go to a place called Alte Mu where they were having a jam night. I was very much up for this. Alte Mu is essentially an arts commune in Kiel. Again, it's hard to imagine somewhere like this existing in the UK. It's a big complex with different areas for different types of arts with all the equipment being donated by locals and it's got a really cool vibe. We turned up, and no one that Brendan knew was there, but for a few hours we just jammed out with the guys who were there, some of them were just bashing away on random percussion instruments, but it was so much fun. I started on the bass and then moved on to the Hammond Organ. So much fun, I would never go to something like this in England, just because they're a lot more structured and there's a lot more ego, but this wasn't like that at all. Brendan also played and sang, and he is a real talent. I really hope I gig with him in future.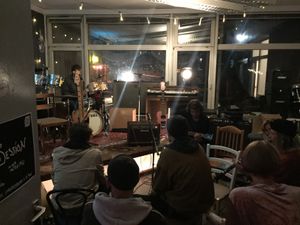 We got back to Brendan's apartment and stayed up talking a bit more. A great day. One of my favourites ever. We got to sleep about 3/3.30. Thank you so much to Brendan for all of this. Please go and check him out. 
My new EP is out now. When you're on tour it's hard to promote things properly, but seeing people sharing the links and posting their little reviews is really motivating me. So thank you. If you've not checked it out, please do. I've had a few comments about the lyrics in "Burning Up" – it's probably the most incendiary song I've written, but I stand by the lyrics, and I'm going to do a proper post about them when I'm back from the tour. 
Thanks again for reading. Have a great weekend.