Germany Tour Day 9 – Berlin 
We woke up fresh from a good nights sleep in Chemnitz and Martin (the owner of the bar we'd played in the night before who was putting us up for the night) had a strong hearty breakfast prepared for us. The Germans love breakfast, and they love providing breakfast for their guests. It's really something to behold. We ate at around 10 and when we finished we headed down to the van and got the road. I was keen to get to Berlin as soon as possible. I'd never been there before, which is quite shocking really. Of all the places we had booked on the tour, this was the one that was making me most excited about being a tourist and we had only one day there, so we had to be clever with our time. 
It was about a two hour drive and we were heading for our friend Max's house in the south west of the city. I say our friend. We met him in Hannover just a few nights before (I think Joe may have met him before). He had travelled there to see the show and to see his other friends in Hannover and we got on really well. I told him that night that we didn't have anywhere to stay in Berlin and he very kindly offered to share his room with us for the night. More on Max later. 
When we arrived, we dropped our stuff off in Max's room (incidentally, it was on the 5th floor and there was no lift, and Martin's flat in Chemnitz was the same, this made me realise how unfit I've become) and he walked us to a place where we could pick up one of those open top tourist buses. This had been my plan all along. I know people probably think they're over priced and tacky, but I've used them in major cities around the world when I'm only there for a short period of time as they take you to all the main landmarks and past some other things you may not have known about and you get a recorded tour guide on some, and a real tour guide on others. I love them.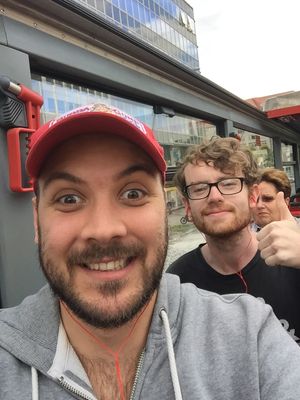 Max dropped us at the bus stops and Joe and i turned into tourists. We had roughly six hours before we'd need to be back at Max's to collect our gig stuff and head to the venue. We got on the bus and it got moving. We were in the Embassy district. It became apparent very quickly that they're all very modern buildings. The guide said that almost all of them were rebuilt following the war, most after the reunification of Germany in 1991. The architecture of these embassy's really was incredible. They'd tried to incorporate something of the country or region into each of the buildings. The only two that weren't rebuilds were the Italian and Japanese ones, which were next to each other and still had the scars from the war on them. These were opposite a giant park which is called Tiergarten. It really is huge and right in the city centre. Annoyingly other than a brief drive through it, I would not have time to explore it, but i really wanted to. I guess I'll have to go back. I can only begin to imagine the trees they must have in the middle! 
The bus then made it's way to Potsdamer Platz, which I knew nothing about at this point and it had a whole load of very modern buildings which reminded me a bit of New York. The tour guide said that one of them had the fastest elevator in Europe and you could go up to the top floor for a great view. Instantly Joe and I looked at each other and we both knew. We were going to ride that elevator. The name of the place is called "Panoramapunkt" - a cool name I think you'll agree. It cost us 7euros to get to the top, but it was really quick to do those 20 floors. It boosts "20 floors in 14 seconds" - but it was more like 4. So i don't know when they started their clock! At this time I also quickly checked my e-mails. My brother set up a thing for our family where we all put in key dates and events and every day we get an e-mail telling us what we'd all done historically on that day. As i looked at the e-mail I couldn't believe it. Here I was on my one day in Berlin and it turns out that 19 years earlier on that very day, my dad had run the Berlin marathon. It blew my mind a bit. What where the odds of that?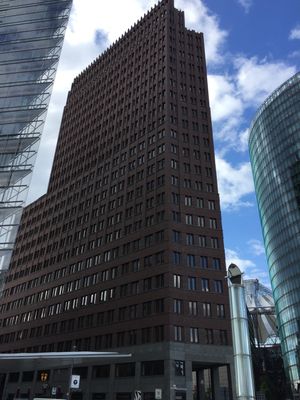 We got out at the top and the view really was great, but perhaps more interestingly they had an exhibition about the history of Potsdamer Platz. This was once an area where there were big hotels and theatres in the early 20th Century. The photos made it look like an incredible extravagant place. The centre of Berlin nightlife in fact. There was an old train station that was pretty important to trade too. In WW2 it basically got completely destroyed. Immediately after the war it looked like it might start to thrive again as shops started opening and the roads and trains were quickly reestablished, however this area was one of the main border points between East and West Germany, so there were troops stations along a line on the floor and both sides would have big propaganda posters facing into the other area from their side. The wall went up in 1961 and the area become physically divided and then it became desolate. It was an area where many people tried to cross and died in doing so. When the wall came down in 1989 there was talks about developing the area and after the reunification in 1991 it got the ok for the development and it became the largest building site in Europe in the 90s. It's pretty much all finished now which is why when we first drove into the area I liked all the pretty buildings. I'll be honest, I was standing at the top of this tower, looking down on the square below and I got very emotional. It suddenly dawned on me the huge amount of history and change that this one small area of the city had seen. It's difficult for me to put into words exactly why I got so emotional. I'm not sure if it's because one of my earliest memories of current affairs was the images of the fall of the wall, and I suddenly realised that there I was, twenty floors above where it happened and look, life was just going on.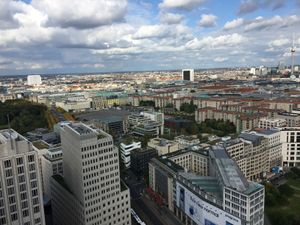 When we got back down to the ground, Joe and I split up to get food and I wanted to explore the square a bit. On the pavement they had marked where the wall used to be. I really was losing it a bit and then i looked up and saw a piece of the wall. I absolutely lost it. Then I saw a few bits more. I didn't realise at this point but there are these chunks of it all over the city, but this was my first interaction and it really stirred something up in me.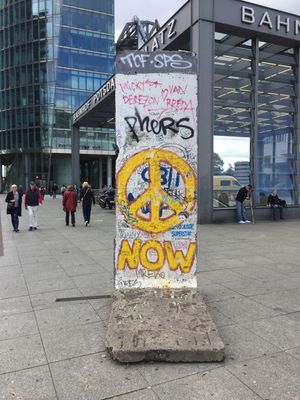 I went for a bowl of pasta and Joe and I met up again and got back on the bus. We spent more time in Potsdamer than we intended, but the exhibition really was something, but we knew we'd have to skip the next few stops and just enjoy the tour. It went past more of the wall and then onto checkpoint charlie, which was where one of the main crossings was from one side of the wall to the other. I'd have loved to have explored this area and gone to the museum. Next time. The bus carried on into the Eastern side of Berlin where the architecture has a very different feel to it. There's so much development going on. The tour explained that most of the older looking buildings (like the 18th century old buildings in Gendarmenmarkt) were nearly all rebuilt after the war due to the damage they'd sustained. Some them were rebuilt as exact replicas, where as other areas they're developing things in the style of. It's still all ongoing and it's going to be quite something when it's all finished. The bus headed up to Alexanderplatz which was the centre of old East Berlin. There's a massive television tower next to this called Fernsehturm which is the highest building in Berlin and it was the East showing off to the West back in the early sixties. If we'd had time, we would have gone up it.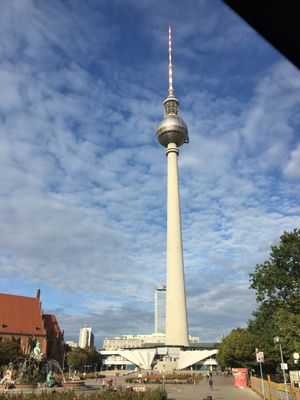 The bus headed back towards the west and we ended up at Brandenburg Gate. This amazingly wasn't destroyed in the war despite being a landmark in the very centre of town. It was damaged and was rebuilt though. It ended up being the image of the wall as it was one of the border crossings, so it's very iconic and there were more tourists taking selfies here than any other place we saw. We got off the bus and joined them.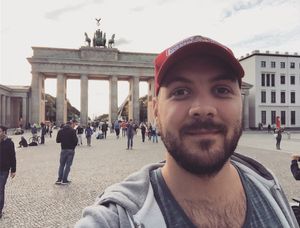 We then took a short stroll down to the Reichstag building which is where the Germany Parliament is based. This was famously burnt down by the Nazi party almost as soon as they took power in Germany, and they used the burning of it to set up laws which pretty much banned all the other political parties. Although they never claimed they did it, they did. It's been refurbished now and has a big glass dome which you can go into, again, we would have if we weren't on the clock.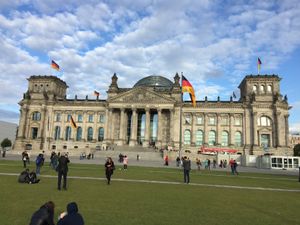 From here we walked towards to the Memorial to the Murdered Jews of Europe. On our way there we found a smaller memorial which was for the travelling community that was targeted by Hitler as well. This was a beautiful little garden with a water feature in the middle. It was really nice. The Memorial for the Jews is a different thing altogether though. It's huge and features loads of grey concrete slabs of different heights which all line up in a grid formation. You can walk into it and the floor gets lower as the stones get taller, so when you're in the very middle, you can't see anything but the stones. I think I understand the idea behind it, and it certainly is a statement, but if I'm honest, I didn't find it powerful as a monument to the Holocaust should be. Maybe that's just me though. I'd be interested to hear other peoples opinions of it. Maybe it was because there were large groups of people there and the atmosphere wasn't very sombre. It just didn't feel like a place people were coming to pay their respects. Maybe there's another place for that? I'm not sure.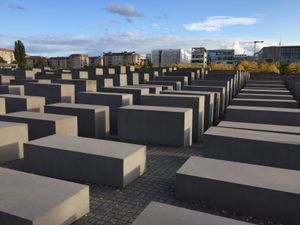 Anyways, back on the bus for the last bit of the loop. We actually had a tour guide for the last bit, which was great as we could ask questions, and we learnt loads of little things which we wouldn't have done otherwise. For example, there were different green and red shaped people in the crossing lights in the east and west, and after the reunification they integrated the different varieties into different areas so as to make the city not feel like two separate areas. The tour guide was quite old and from the old western side. He said that he can still tell when he meets someone from the old east and he's sure they can tell he's from the old west too. It was fascinating. The last thing of note that we saw on the tour was the Kaiser Wilhelm Memorial Church at Breitscheidplatz. This is the site of the Berlin terror attack in 2016, but it was buzzing as you'd expect. What I really liked about the Church was it was clearly still very damaged from WW2 and they've decided to make a feature of the damage rather than repair and rebuild. Although I love all the new buildings and the new rebuilds, it's very powerful to see the damage left from that war.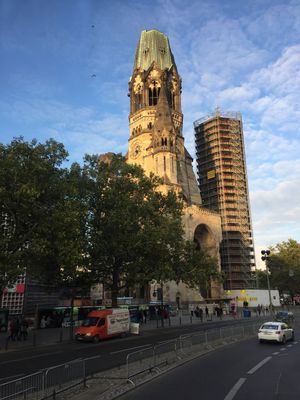 And just like that our time as tourists was over and we headed back to Max's where we met him and his house mate and told them about our day. Max asked how we'd like to get the venue and we opted to walk as we'd both fallen in love with this city and our logic was that by walking we'd get to see even more of it. It was about an hour walk away so we headed off pretty sharpish and get a wriggle on. We walked down a road that had some of the most incredibly painted buildings I've ever seen. Annoyingly my hands were full and we were in a rush, so i didn't get to take any photos, but it was stunning. I really enjoyed this walk. Not only was I see more of this city, but I was getting to spend time with Max, who was quickly becoming one of my favourite people in the world. Intelligent, witty, good looking, and kind. What more could you want? We talked about so much stuff, and his opinions were fascinating. I felt like we were really bonding. 
We arrived at the venue and set up. The venue was called Unterrock. It's a bar down some side streets and it was really vibey. I liked it from the moment I arrived. The owner showed us where the equipment was and gave us some set up tips, which was useful, he also offered us beers for the night (as long as we didn't finish a keg, not sure quite how much beer this means we were allowed though). This gig was different to almost all of the other gigs as the bar was quite busy, but everyone there was there to see us play, some of them were Joe's friends some were people I'd met at Lost Evenings in Camden in May, but most were there before they'd been recommended the gig by a friend in the UK, which was really nice. Joe went on first, and it was just wonderful. The atmosphere was brilliant. I couldn't wait for my go. I got on and played the set that I'd been playing the whole of the tour. I joked to Max beforehand that he'd have heard all the jokes before, so I hoped he wasn't judging me too much. This is easily in my top 5 gigs of all time. It's difficult to describe why, but there was just a real strong connection with audience and performer. I know that sounds pretentious, but it was just magical. I got two encores...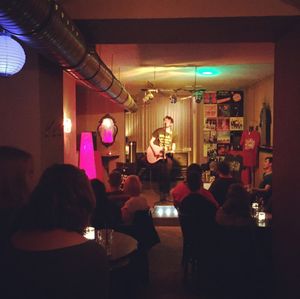 Afterwards I did my best to talk to everyone there and spend some time with them and when we left the bar we were all on a high. So we decided to walk home too. Joe was a little bit tipsy which was quite amusing, but Max and I continued to put the world to rights and he taught me so much about German politics and the German mindset. He talked about the fact that all Germans have this inbuilt guilt in them due to the war. The whole of their lives they're confronted with reminders of the things that their country had done in the past and they all carry that with them even though they weren't alive back then.  We stopped at one point to take a picture next to a advert for Angela Merkel. The election in Germany was only a few days away and everywhere we went on the tour we'd see big posters of her face. We'd started to greet her every time we saw her. It amused us. Of course it's not just her face, faces of all the candidates were everywhere. It seems that in Germany there is less propaganda based marketing by the political parties but more emphasis on the people you're actually voting for. Of course this is just my theory. Due to the fact I can't read or speak German I may have just been missing all the propaganda and only noticing the faces!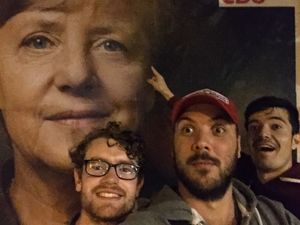 I really didn't want this day to end, but when we go back to Max's apartment I was exhausted. Time for bed. The whole tour has been great, but this is a day I won't forget in a hurry and Berlin is a city I want to explore so much more. I haven't felt this way about a city since I was in Sarajevo in Bosnia back in 2006. It's difficult to describe why, so I probably shouldn't have mentioned it, but needless to say, I could live in Berlin the same way I'd love to live in New York, and I'd love to spend more time with Max. What a human.