Germany Tour Day 6 and 7: Liepzig 
Day 6 
We woke up at about 10.30 and today (I'm not sure if it's because it was a Sunday) Joe didn't go for a run. However, Mark and Steffi produced another stunning breakfast. The hospitality of Germany people is not something I'd ever heard people talk about before I came on this tour, but I'm going to be telling everyone who ever asks me about Germany. 
Day 6 is a day with no gigs, so the plan was to wake up, and get to Leipzig (where our gig on day 7 is) in time for Joe to find somewhere to watch the Man Utd game. So we leave at about 1pm, and we're both very sad to leave. It's incredible the connections that you make from doing this job. The drive to Leipzig is uneventful, but we listened to Coldplay, Frank Turner, Green Day and Chris Shifflett (Foo Fighters guitarist). We had booked an Airbnb for two nights in Leipzig, so we arrive and get shown to our room which is more than what we need. There's a shared kitchen and there's food and drink available with an honesty jar to pay for it, so I made myself some pasta and had a beer before retiring to my room to spend the night catching up on work. I know it may seem like we both spend far too much time on our laptops when we're in another part of the world, but the truth is that we're both self employed and if we don't do our work then we don't get gigs. I've got my UK tour coming up shortly, and there's plenty of work to do for that to make sure tickets are sold and that everything is organised. I don't have an agent, a manager, a promoter or a desk top publisher, but they are all jobs I have to do in order to keep my work going. So, that was my evening before going to bed around 1.30am. 
Day 7 
I woke up at around 10, and in truth I really needed that sleep. I should spend the day exploring Leipzig, but I decided I will do that tomorrow as I've still got a long list of jobs to do and I'm enjoying having the private room where I can do it undisturbed. It's not that I haven't enjoyed staying with people or getting to know them, but when I'm staying with people it's a lot harder to get the work done that you need. So today was very boring. Joe went for a run (normal service has resumed) and then we went to the local supermarket (Netto, it's just like our country) to buy some bits for breakfast and lunch, but we didn't leave for the venue until 7pm so plenty of time to get some jobs done. 
The venue was a twenty minute walk away from where we were staying and it was easier to walk there than to drive, so I put a small selection of merch in a bag and left at 6.30. I went before Joe as I wanted to have a slow walk in and try and get a feel for the city. Touring as two people is very intense, you spend a hell of a lot of time together either in the van (we've already clocked up over 24 hours just in the van together), or in small rooms, so any time alone is appreciated even when you get on as well as Joe and I do. I think that's why I enjoy Joe going for his run every day, and why I enjoyed this little walk through Leipzig. 
Leipzig is in the old East Germany (I think, I've not googled this, I've just picked it up from what people have said), and it does have a different feel to it than some of the other cities that we've visited. I'd say it's more like Manchester. The area immediately by where we are staying isn't great but the rest of what I saw had some real charm to it. There's a lovely huge modern cathedral (or university, I'm actually not sure what it is and didn't have time to stop and take more note) and some old buildings as well. It was a nice walk and I look forward to exploring more tomorrow.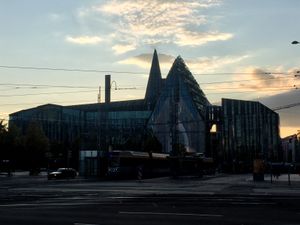 Tonight's venue was called KO. Café Konnteman, and it took me a while to find it as it's down a passage way off of one of the main shopping streets. It's a little bar, which I'd describe as a dive bar, but I don't mean that disrespectfully, because I love places like this. When I walked in I was greeted as I've come to expect in Germany, with a firm handshake and the offer of a beer. We have a sound engineer tonight called Peter. He's Polish and speaks very good English. Joe has worked with him before so there was familiarity, which was nice. We had a brief chat before Joe joined us, and then one of the locals came over to our table and started talking to me. When I say talking to me, I mean talking at me. This person had lived quite the life it seemed, and they had a story for everything. We talked about Irish politics, circuses (they used to be a clown), and Russia amongst other things, and when I saw we talked, I mean I listened. Some other people joined the table and eventually my new friend left the bar. They didn't stay for the gig which was a shame. 
Joe went on first tonight. There were about 14 people in the room when he started and probably only 8 of those were really paying attention, but it was still a nice atmosphere and Joe went down well. I feel like his performances are getting stronger as the tour goes on. The one thing about this bar which was really different for me is that people are allowed to smoke inside. I have nothing against people doing whatever they want and I've been around plenty of smokers, but due to the smoking ban, we've got used to smoke free environments, and the thing that I noticed was how much my eyes were stinging. 
I went on after Joe and played the same set that I've played since Lubeck. It seems to be working so I didn't want to change it. It went down really well, and I think I won a few people over which was nice. The gig organiser is a guy called Ian who is originally from Northwich in England, but moved over years ago, he went around to the venue with a hat for us and we raised 53.50 euros, which is great as that covers the airbnb we've stayed in for a couple of nights, and I also sold a couple of CDs and some tea. The Germans do find it very amusing that I have my own tea, and lots of people want to talk to me about it. I feel that if I had different blends here then they might sell better than the breakfast tea, as when you're in cafés or service stations, there seems to be a lot of herbal teas and fruits teas rather than black tea. I think I've just written the word tea so many times in a short space of time that it's lost it's meaning. 
When I finished playing we stayed in the bar until 3am drinking with Peter, Ian and some of their friends (we were given 20 free beers by the bar for playing, so we wanted to make the most of this). This night was so different to other nights we'd had in Germany, and I have had yet another wonderful experience. It's great hearing peoples stories who are from different backgrounds and cultures. There seems to be a few universal truths and that really feels me with hope, but there's also so much to learn from each other. It also continues to amaze me how much WW2 comes up in conversation. There were a few times where I took my phone out and made notes on what people had said tonight, there was some wonderful songwriting material. I also laughed a lot tonight. Peter has a great sense of humour that I really enjoyed. 
Thanks again for reading. I'm really enjoying putting my thoughts into words and just sending it out into the ether. 
Same time tomorrow? Ah go on then.