Germany Tour Day 2 – Tonfink, Lubeck. 
My alarm went off this morning at 9.30. I was in a room next to the office for last nights venue, so I was expecting people to start coming in and making some noise soon after that, but I felt refreshed so I didn't mind getting up. I checked some things on my phone and did some jobs that needed doing. The shower was great which was a welcome bonus. Joe went for a run, and when he got back I went for a short walk around the town. At first I felt like i was walking around a ghost town, but eventually I stumbled across the high street and there was a nice vibe about it. It was 11am and I was interested to see that the biggest queue for food was in the kebab shop. It's definitely a student town. I found a specialist teashop that sold many different teas and also had a vast array of teapots and paraphernalia. I was standing there admiring these pots when a member of staff approached me and said something in German. I told them I was English and that I didn't speak German and in perfect English they asked if he could help, I replied "No thanks, I'm just browsing." At this point I felt like the most English tourist ever. There I was in a small German town all on my own, smelling different blends of tea in a tea shop with no intention of buying anything.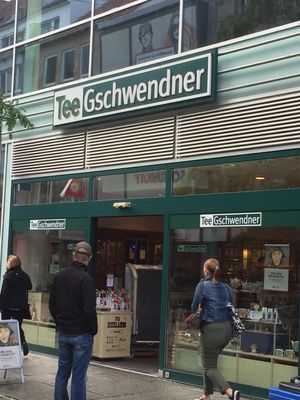 The town itself is quite nice. There are some interesting statues and things in the streets and the buildings are all quite pleasant. I may be completely wrong, but everything feels very modern, apart from one or two buildings which in places look like they've been rebuilt, so I have a feeling that this town may have been a victim of lots of bombing during world war two and they then rebuilt it. As a result I didn't find it quite as charming as some other European cities that I've been too, but it was still lovely and all the people I had exchanges with were delightful. I headed back to the venue, and met Joe. We then walked back into the town to go and get something to eat. I of course was acting like I knew everything about the town and was a great tour guide to Joe. I'm sure he appreciated it. We stopped in a little bakery (I couldn't convince Joe to get a kebab despite the fact that it was clearly the popular choice with the locals and that's normally a good indication of what to try. And I wanted a kebab).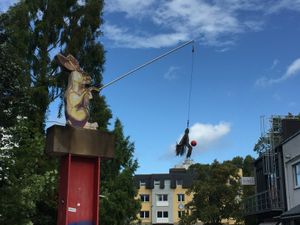 We had some lovely pastries and a cup of tea and then headed back to the van to get our journey started. As we walked back the wind really picked up and at one point my hat was blown off of my head twenty metres down the road. It went really quite high in the air and I did for a moment think that I'd not see that hat again. It was very funny. It was about 2pm when we left. The sat nav said it would take 3 hours, but I know I like to drive slowly and knew that we'd stop at least once, so in my head I hoped we'd be there by 6. It was a good journey with very little traffic but the wind made it slightly more interesting than it should have, and there were some great rainbows around. We listened to the Foo Fighters, a live album by Willy Nelson and Johnny Cash, Nirvana unplugged and Ryan Adams. 
Coming into Lubeck I asked Joe to google a bit of history about the town, he did and basically it's old, and they in fact call the centre of town "the old town" and it's a world heritage site, 25% of which got destroyed in the war (there's a theme here). As we crossed a bridge suddenly the city came into view and the skyline looked very cool. Lots of church steeples and a really classy feel to it. As we drove into the city we passed through a very old fashioned building. It felt much more German than Osnabruck, although I've not spent much time in Germany, so I appreciate I am basing that on my own heads opinion of what Germany looks like.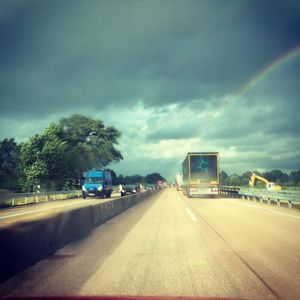 We arrive at about 6.30pm, park up outside the venue (Tonfink) and as we make our way inside the staff greets us enthusiastically (there seems to be a theme developing here too). It's a bar/pub and there's a stage by the front door. Everything is set up and waiting for us. We got shown to our room at the back of the pub and then do a little sound check, which was easy enough. The barman said he liked my song, which is nice because it was a Frank Turner cover. I often play "I Knew Prufrock Before He Was Famous" as a soundcheck because it's a good vocal warm up explore all of my range. 
We order some food (I had the pumpkin soup) which is once again free for us and we get given some vouchers for beers and it's explained to us that if we run out we get the staff price, a very nice touch indeed. The food was great and people started to make there was in. Joe was going to start the night at 8.15 (we're switching who goes on first every night). I'd received a tweet from someone earlier in the day saying they were coming down, they arrived with their sibling and introduced themselves. Turns out they'd purchased a CD from my website a while back and I'd wrote them a letter with it saying I'd be in Lubeck on this date, so here they are. I was bowled over. It's one thing to have someone turning up to a gig in your own country that knows who you are and wants to be there, but for it to happen in a different country is so overwhelming. Anyway, I had a brief chat with them both and then Joe went up to start. 
The person who booked us made an announcement in German before Joe started saying who we were and that we were playing for donations, a very nice touch in deed and we got a round of applause before playing a note! There were about 25 people in the room when Joe started, apparently it's normally a lot busier, but due to the storm today, the police had advised people not go out. How's our luck? Anyway, as Joe started playing the same thing happened as last night. People stopped their conversations and listened. I thought Joe played really well tonight, but he had some issues with his guitar going out of tune that I could see were bugging him. Things like this happen and it's completely out of your control most of the time. A guitar is a piece of wood with a metal bar running through it, and temperature changes and other factors can make them misbehave. I don't think it was as bad as what Joe thought it was in his head though and people were definitely enjoying his songs. 
He played for 40 minutes then we had a break and it was my turn to play. During the break, the person who booked us walked around with a donation tin in the shape of a dog, again, this was a very nice thing for them to do and really shows how much they respect musicians. 
I played almost the same set as the night before but I messed around with the order as I'd figured out some set pieces, which might work despite the language barrier. I was right, and I had an absolute blast on stage. The audience really seemed to get what I was doing and seemed to be enjoying it, lots of laughs and all of my songs were well received, I even heard people sing along by the end of some of them. It was just wonderful. Probably one of my favourite gigs ever. 
Afterwards, a member of staff again walked around with the donation pot. I spoke to the two people who came out because of my letter, and they seemed to have really enjoyed themselves. I spent a bit of time talking to them and getting to know them a bit better. I really hope I see them again. They then left and two other people came up and got a CD from me and I joined them at their table and spoke for about 30 minutes with them. They were from Frankfurt (a few hours south of Lubeck) but were both in Lubeck for different reasons and decided to come out, they had no idea there would be live music but they really enjoyed it. This is exactly the kind of thing that would hardly ever happen to original musicians in the UK, but seems to be a common thing over here.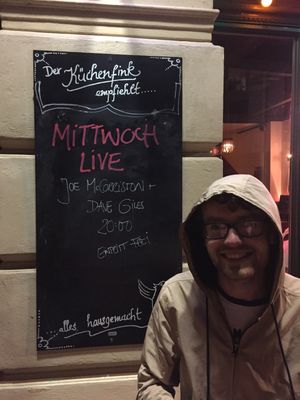 Joe and I went for a walk around the old town. It was about midnight and all the old buildings were lit up and there were only a handful of people around. It was a really nice time to walk around and some of the architecture really blew me away. We got back and got given our little donation dog. It had 74 euros in, plus I'd also sold two cd's and a teatowel, so an improvement financially on the night before and we're beginning to recoup some of our expenses which is nice. 
We're now in our room as I write this. I'm still buzzing because of how great of a night it was. Joe doesn't seem quite as happy with it, he's done a lot more touring in Germany and I think he was hoping for slightly bigger audiences, but there are still seven shows to go, and there is absolutely nothing we can do about the storm or the advice given out about the storm! If it ends up getting even better then great, Joe admits that he has been spoiled with great gigs over here, so I think it's an expectation thing. He had high expectations, and I had none, and therefore I'm over the moon with how it's going. 
Hey, if you're still reading, you'll be pleased to know that my new EP is out today. I hope you've had a chance to listen as I'm really damn proud of it. If you do like it, please share it with your friends!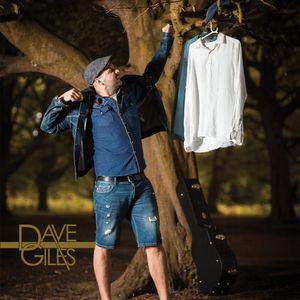 I hope you're having a great day!