Waking up at 5am is never fun. I arrived in South London last night as that is where Joe was staying and it made more sense to travel from there to Folkestone than from where I live in West London. I spent most of yesterday frantically trying to get my shit together, but alas, I'm certain that I've forgotten something, and there are a few things that I didn't get as organised as I would have liked, but what are you gonna do? 
So after flapping about a bit trying to wake up, Joe and I are in the van by 5.30 and spirits were quite high. I left without a clue of how the next ten days will pan out as this is a style of touring I've never known before. Joe has booked all of the dates other than the last one that was organised by my friend Kathy, and is in the same venue that Danny Gruff and I played in back in April on our Europe Tour. Essentially we go to each of these venues hoping that locals fancy discovering some new music and that a few other people might turn up off of recommendations from their friends online or from when Joe has been here before. There's no way of knowing when we turn up whether anyone will be there and the venues are paying us with accommodation, food and drink. If we want to make any money then we're looking for donations or hoping that people will buy our merchandise. It's a risk and we could lose a little bit of money each, but as we're made our way to Folkestone we speak about this and we both felt positive that we'll at least break even and hopefully play some good shows on the way.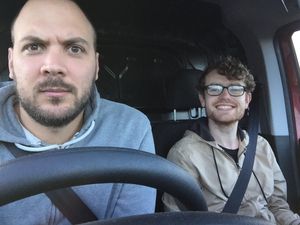 This kind of touring just wouldn't work in the UK where the majority of people don't care about musicians they've never heard of playing their own songs, and if a musician turned up doing so in a bar or café that they were in without them knowing about it, they'd either not listen and talk loudly over it, or leave. However, Germany has a reputation for being very different in this regards, and the one gig I have done here (the aforementioned gig with Danny in April just outside of Munich), was a testament to that. We shall see. 
It's was a 12-hour journey today. An hour and a bit to Folkestone, about two hours sorting the crossing on the channel tunnel, then the rest is driving across Northern France, through Belgium and the Netherlands and then into Germany. Plenty of time for Joe and I to have a proper catch up, as it has been a year since we last toured together. We discuss what tours we've done in the last year, gossiped about what is going on in the wider musician community that we're both part of, and even find time to talk about bringing down the patriarchy. We stop at about 5 different services stations, which just like in the UK, are impossible to differentiate. They have this system in Europe where you pay 50-70 cents to use the toilet but you get a 50-cent voucher to use in the shop in return. So basically you end up trying to find the cheapest thing to make the most of your wee breaks. We listened to Ben Marwood, Jason Isbell, Lewis Fieldhouse, The Dumdums (not on spotify), Billy Joel and The Beatles. 
It was 6pm when we arrived at venue: Zauber von Os (which translates as the Wizard of Os) in Osnabruck and I'll be honest the last few hours of the drive were damn hard. Tiredness really started to set in and I got incredibly restless in the drivers seat, but we made it and Joe gave me a little pep talk about putting my game face on as we walked through the doors with our guitars. As soon as the door opened we were greeted by two members of staff who looked thrilled to see us and were very helpful. We got shown the room we're playing in, and then the rooms upstairs where we'll be staying. The rooms are ridiculously clean and lovely, and for the upstairs of a venue this is a very pleasant surprise based on my knowledge of upstairs rooms in UK venues. We sort ourselves out and within 15 minutes of arrival I had a beer in my hand and my dinner order was taken. This is the best welcome I've ever had at any venue ever and after the long journey it was just perfect. The venue is a small café/bar. It had a nice amount of people there when we arrived enjoying the food and drink (they have over 80 different beers).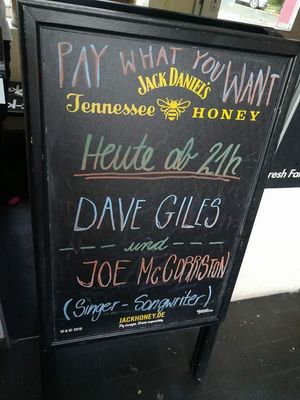 The food was stunning; I had a vegan burger which was just delightful. The show didn't start until 9, so we had a couple of hours to chill out so of course we both got our laptops out and did some work. Spending 12 hours in a van in conducive to fulfilling our daily routines of e-mails and admin. Being a musician has plenty of non glamorous parts too! 
By the time I took the stage there were about 15 people in the room. I know what you're thinking. "You've traveled all that way to play to 15 people. What is wrong with you?" – I can see your point, but they were lovely people and they listened intently, laughed in the right places and applauded louder than many rooms with a lot more people that I've been in. I've only done a handful of gigs in places where English is not the main language, and this does cause me some dilemmas when choosing my set. I'm very aware of how "wordy" some of my songs are, and normally I give each one a long introduction, but that doesn't seem appropriate, and due to the fact I only know two German phrases, I pretty much rattled through my songs. I feel like I sang really well, and gave a good account of myself, which is always tough at the end of a travel day like this, but I was very happy. I forgot my words only once. During The Strongest Man In The World I sang the line "He was a boy in the war though he never left London" and then in my head all I could hear was Basil Faulty saying "DON'T MENTION THE WAR", so by the end of the verse, I'd completely forgotten where I was. I chuckled to myself about this though. 
I finished up and then Joe got up and played. His played a good mixture of old and new, the new songs being particularly delightful and I look forward to hearing more of them. Some people left during Joe's set but one came up to me and said "we didn't know there was going to be live music, so we have other plans, but we're really enjoying ourselves so thank you so much for coming." They all put some money in our little bucket. A few others arrived late, but they all settle down and listened. The staff came in and sat down too. It was small, intimate, but lovely. We got chatting to three psychology students afterwards for a while and they were just brilliant. Then they headed off, we packed down and Joe went off to bed whilst I stayed up at the bar with the staff and had a couple of beers and talked for a few hours. I was fascinated by how well they all got on and the pride they take in their little bar. They showed me the artwork they're working on for the walls, tell me about the different beers they're making (one is called Escalibier, and I'm a sucker for a pun, so I liked this a lot), they also had a wall where they put up drawings of motorbikes by their regular customers. It was completely random, but very charming. I contributed a very bad drawing. 
I really enjoyed my time with these people. They made me feel like I was part of their little community and their English was incredible. They all were apologetic that there weren't more people at the gig. I told them that there was no need to apologise, that their hospitality was incredible and that we should be ones apologising for not bringing more people through the door. In terms of money, it wasn't great, neither of us sold anything and we got thirty-seven euros in the bucket, but that's over half a tank of petrol and when we've been looked after so well, it's not a complete disaster. I got one person to sign up to mailing list too, so that's good. Everyone is so polite it's difficult to know whether our lack of sales is because they didn't enjoy it, or because they didn't have any money on them. It's a student town and those who were in were students, so I doubt they had much if students over here are anything like their English counterparts. Obviously we have to think about money as this is how we both make a living, and with my Nashville trip coming up, I've still got a hell of a lot more to make, but a good gig isn't defined by how much you earn, they're about playing music to people who want to listen to it and making some kind of connection as a result. Do I think that happened? Yes I do. Do I want to come back to this venue and play again? You bet. I actually really want it to happen. 
It's now 1am as I write this, and I've just got into bed. I'm looking forward to what tomorrow brings. I'm going to explore the little town before we head to Lubeck. I'd never heard of Osnabruck before Joe sent me the gig listings, so I'm curious to see what it has to offer. It's only a 3 hour drive tomorrow too. Happy days. 
My new EP is out on Friday (tomorrow as I post this). I've kind of neglected the release date as I've had so much on, but I'll start thinking about how I'm going to promote it. I really do think it's the best EP I've ever made, and I know everyone says that about everything they release, but I do believe it. 
I hope you're having a good week, I'll be surprised if anyone gets this far in the blog, if you're still here then know that I think you're looking wonderful today.